This is Bailey the Kreisl family's newest addition. She loves her Answers goat milk.
This is Ivy a Bernese Mountain Dog puppy at Sunset Farms who will grow up eating Answers Pet Food.
Hi my name is Boris and I drink Answers Goat Milk for my colitis
and it works great!
This is Bella and aspiring model from SoCal who loves Additional ANSWERS
TM
Goat Milk and it helps stop her itching.
Spike from Brattleboro, VT he loves ANSWERS
TM
Pet Food so much he yelps for his breakfast
and dinner.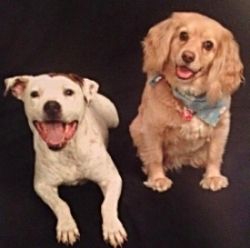 ANSWERS
TM
Pet Food makes Newton & Fenway smile!
Suzie going on 15 years is a motorcycling ANSWERS
TM
eating girl!
This is Cantaloupe AKA: Melon from Bend OR, and he loves his Additional ANSWERS
TM
Goat Milk Formula!
Bellina has eaten ANSWERS
TM
Pet Food almost her entire life. Her opinion "I was meant to eat raw and my skin shows it!"
Oh no caught drinking right from the carton!
Kayak says: "Got Goats milk?"
Chalali from Bristow, VA is very happy to be eating ANSWERS
TM
Raw Diet and drinking the Goat Milk Formula! The Goat Milk Formula help her when she was struggling with digestive upset.
Napoleon and Bonaparte, Australian Shepherds from Atlanta, GA love ANSWERS
TM
Pet Food!
This is Bella from Mercer Island, WA proudly showing off her Goat-tee!
Liora's, owner of Whole Pet Central, Rockville, MD and new rescue pup sporting his milky beard!
Thank you A+ ANSWERS
TM
for making such yummy goat's milk!
In memory of Nataka who lived 15 happy years thanks to great nutrition, including Additional ANSWERS
TM
Goat's Milk provided by her owner Liora, owner of Whole Pet Central, Rockville, MD.
Bella celebrating her birthday with Answers cupcakes made with Answers Pork Nibbles layered with dried cranberries mixed in yogurt, YUM!
Binks from Redmond, Washington thinks ANSWERS
TM
Pet Food is lip licking good!
Meet Coco from Ashland OR.
"Coco's family noticed that her eyes were brighter and she had more bounce in her step after switching to ANSWERS
TM
raw goat milk and detailed chicken formula."
This is a puppy from a litter of Dogue De Bordeaux puppies rescued by Jennifer Forsyth, VMD. Dr. Forsyth is raising them on Additional ANSWERS
TM
Goat's Milk and then will wean them on to ANSWERS
TM
raw diet.
Lucy and her owner
Tim shop at Healthy Pet Products in Pittsburgh, PA. Tim credits her beautiful shiny coat to feeding Lucy ANSWERS
TM
Pet Food for the past 6 months.
Smilin' Jack
Bella loves ANSWERS
TM
Raw goat milk!

Beaujangles the wirehaired pointing griffon loving his new goat's milk!

Roxanne Stone with All The Best owner Susan Moss and the management staff learning about ANSWERSTM Pet Food.



GOAT MILK?? . . . had milk, now just left with the carton!!
Harley owned by Amy Snell,
Portland OR



This is Manhattan, a Brussels Griffon. She loves Additional Raw Goat's Milk she jumps at the refrigerator wanting it each morning!



Meet Skylah Blij an active 10 month old 6 1/2lb Yorkshire terrier puppy. She does agility and someday hopes to compete in trick training. Sky also enjoys hiking and rough play. She fuels all her activity with ANSWERSTM Detailed formulas and Additional ANSWERSTM Goat's Milk.

Lucy, a 2 yr old therapy dog,
is a customer at the
Big Bad Woof, in
Washington, DC.


SPOON IT OUT....Close the top with a clip, refrigerate until next meal...No plastic wrappers, no bloody counters, ..no extra handling.
Go Green...Recycle!!!

Trigger and Tinkerbelle dressed up for the holidays. Dog Mom Jan refers to them as "Goat Milk Junkies", they can't be without it.

John, son of Sam Wirsching, owner of Sam's Cats and Dogs Naturally, Monroe, WA, is showing his technique of how to "Pour A Little Love" of Additional ANSWERSTM raw goat's milk.

Our smallest goat milk fan
in pro feed Rockville.

This is Bella, a French Bulldog enjoying goats milk at Pet Source in Concord Mass!

ANSWERSTM first delivery at
Pet Aesthetics in Southbury CT.