Pet Food is excited to introduce the newest member of our family! Will is a second generation ANSWERS
fed White German Shepherd. He is currently under the care of Erin McWilliams, owner of Paws-itive Experience, which is a training facility in Rockaway, NJ. Under Erin's care Will will become housebroken, and focus on training such as confidence building and social skills. He will also attend a doggy day care at Paws-itive Experience.

Susan Thixton, The Caped crusader for Safe PetFood, hasdeveloped a website [truthaboutpetfood.com] dedicated to helping pet owners all over the world find a pet food free of dangerous chemicals, risky imports, and inferior ingredients.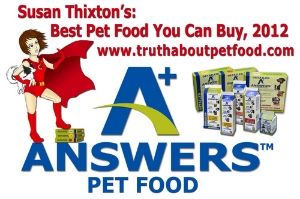 ANSWERSTM Pet Food has been named "Best Pet Food You Can Buy" By Susan Thixton, in 2012! Read the very first of a new series of articles taking a detailed look at various pet food companies. Read "Answers From ANSWERS Pet Food"
We at ANSWERSTM Pet Food encourage you to subscribe to a remarkable magazine Dogs Naturally. We have sponsored an article: "Vets on Vaccines" by Catherine O'Driscoll in their March/April 2012 Issue. Catherine surveys over 20 vets (including Dr W. Jean Dodds) asking them about vaccines and pet health. Most vets contribute poor animal health to over vaccination and processed kibble diets. Some go as far as recommending raw diets.
"THE GREEN CONNOISSEUR"
April, 2013
Cats and dogs are carnivores and supplemented their diets in the wild with other natural foods, not the processed, tasteless, carbohydrate based food we've come to accept as pet food today. There's a better answer . . .
from ANSWERSTM Pet Food.
[Read Article]

Watch a video about AnswersTM Pet Food
by Living In Style's "I Gotta Have That!"

Check out our 5 star rating on
[Dog Food Advisor]